Metal Entry Doors in Bismarck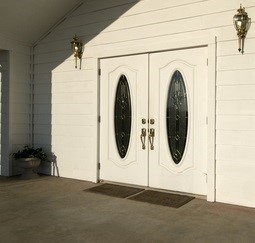 Many home and business owners feel good about putting a metal entry system in place. There are countless reasons why many homeowners and businesses prefer metal entry doors in Bismarck and the surrounding areas. However, the first thing to think about is which company you want to entrust to get the job done.
Since 1994, our experts here at Precision Wood Finish have been providing local clients with the best service and results possible. Our goal is to provide you with the finest in workmanship, materials, customer care and pricing. This includes helping you understand the options that you have and assisting you in making the right choices when deciding to finish your doors.
We are a family-owned and operated business and we genuinely care about the customers we take care of. This is why we offer details like 125 mile radius delivery for items we take care of in our workshop or away from your site. We also make it a point to stand behind the work we do because your satisfaction is our top priority.
What You Should Know About Metal Entry Doors
What you should know about, as a consumer, is what type of advantages you can expect for your metal entry system. Some of the benefits include:
Homeowner may spend more on a steel door system upfront. However, over 90% of that is recouped with the resale value of the home. This is an investment not an expense.
Steel doors can be painted so you have a wide variety of color options.
These doors are also durable and easy to maintain.
Their strength and durability also makes them the ideal choice for security reasons.
Metal doors can be used in residential application but are most commonly used for commercial structures.
The one thing to keep in mind is that metal doors can rust, dent and move around in extreme heat or cold. They are not an ideal candidate for staining because wood grain does not always look real. However, let us work with you so that you can understand the options and make a choice that you will be able to live, and love, for years to come.
If you would like a free estimate for finishing metaldoors in Bismarck or the surrounding areas, please call 701-751-2848 or complete our online request form.