Painting or Staining Windows in Bismarck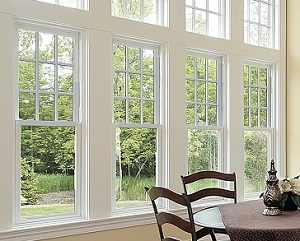 Making decisions about painting or staining windows in Bismarck is no easy task. Aside from just looks on the outside, you have to also think about the interior design aesthetics. Then aside from just appearance overall you have to think about other features, such as functionality.
The good news is that you have already found the right team to trust in for this type of work. Since 1994, Precision Wood Finish has been taking care of local residential and commercial clients. This includes services such as painting or staining windows.
The last thing that you want to do is make a decision without putting much thought into it. In order to be a wise home or business owner and a savvy consumer, it means knowing about your choices and making the best one for your individual situation. Then you will be able to live with your decision for years to come. Our wood staining company can help ensure you get the results and quality you expect for your windows.
Interested in unfinished wood windows? Remember, we specialize in wood staining and wood finishing in Bismarck, so you can count on us for all your finishing needs when it comes to your windows.
Double-Hung Windows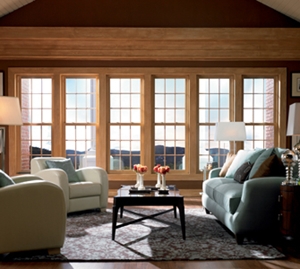 Double-Hung is what you think of when you think of the traditional window. There is an upper and lower sash and the upper usually stays in place. The lower sash is what you lift and lower in order to open or close the window.
Since double-hung windows are the classic and traditional style, they often work ideally with just about any style home. This one is probably easier to use, especially in a pinch, since casements take longer to operate with the hand crank. This may not be as energy efficient since there are gaps, however seals can be put in place to help make the seals tighter when closed.
Casement Windows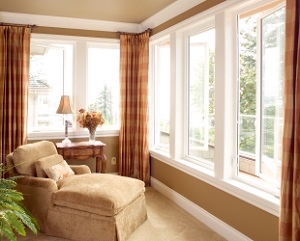 The best way to describe a casement window is to think of it like a door the way that it opens and closes. Usually, the window is operated by a crank inside the home used to open and close it. Casement is great for modern style homes and provide the homeowner with an open and unobstructed view.
The casement window is slightly more challenging to use since it is operated with a crank as opposed to simply sliding open and closed. Casement is also thought to be more energy efficient because it can close with greater ability with all seals in contact. Whatever you decide, you can rest assured that you will feel good about the quality by working with our pros here at Precision Wood Finish to get the job done.
If you would like a free estimate for painting and or staining windows in Bismarck or the surrounding areas, please call 701-751-2848 or complete our online request form.
Recent Articles