Finishing Wood Bar Tops in Bismarck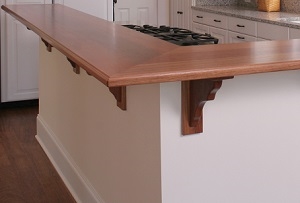 At Precision Wood Finish, we can't help but be partial to wood for any application possible, including bar tops in Bismarck and the surrounding areas. You simply cannot beat the warmth and character of wood. Not only does it look stunning but it is quite functional as well. On top of all that, it also provides added property value to your home.
We know wood and wood surfaces for sure. With over two decades of expertise in the field, we know what it takes to provide our customers with the finest when it comes to staining and finishing. Our main priority is being able to provide you with the results that you want.
The only way to do this is to listen to the needs of our customers. From there, we will be able to show you the options that you have for bar tops and help make suggestions so that you make the best choice possible. Give our team of pros a call today so we can begin working with you.
The Classic Touch of Wood Bar Tops
There are a variety of woods that can be utilized for bar tops such as bamboo, cherry or maple. If you have a wood in mind all you have to do is contact us and let us tell you if it would be a suitable option. Avoiding softwoods is the best approach for countertops though, as they are not up to the performance challenge.
One of the main reasons wood makes an ideal choice for any type of counter is that its color and character actually improve with age. Of course it must be taken care of and maintained in order to keep it looking and performing to the best of its ability. It can also be refinished with relative ease so you can improve the look if it begins to become worn down.
This is also an ideal choice because it has natural anti-bacterial benefits. The only drawback that some people see with wood counters is that the bar tops do require some maintenance. The type of wood will determine how much maintenance that may be. Get in touch with our experts so that we can review with you the choices that you have for wood bar tops in Bismarck and the surrounding areas. And keep in mind, our experts can also provide you with any type of wood staining or protective wood sealing services, too, ensuring your new wood bar tops keep their classic beauty for years to come.
If you would like a free estimate for finishing bar tops in Bismarck or the surrounding areas, please call 701-751-2848 or complete our online request form.
Recent Articles