Casement Windows in Bismarck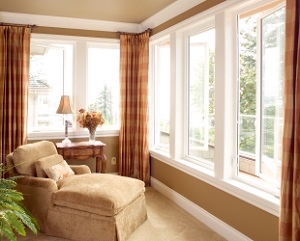 Picking just the right details for your home can feel overwhelming, right down to the casement windows. Having been in the business for over 25 years now, our team here at Precision Wood Finish knows all about casement windows in Bismarck, and about making important decisions. We take the time to work with each client in order to get the best results possible.
So what is a casement window exactly? This is a type of window that is attached to the frame by one or more hinges. The hinges are generally at the side and a crank is used to open the window.
There are windows hinged at either the top or bottom but they each have their own name. Casement windows have a distinct look, as well as their own set of advantages. So it is a good idea to work with us to find out more about your options so that you can make the best choices possible.
Benefits of Casement Window Installation
So what are some of the benefits of casement windows in Bismarck and the surrounding areas?
This is a great window to opt for without muntins which are the strips of wood that divide panes of glass on other window styles. The benefit to omitting these is that you can have a completely unobstructed view, even when the window is closed.
Due to the hooked locking system and the need to crank the window open, this makes them harder to break into. This is a great option for anyone who is concerned about security for the home and the family.
They can also be opened wider than any other window. With something like a double hung window, even when opened you have the top sash still closed. Once a casement window swings open, it is 100% open without a sash still in the way of air flow.
Casement windows are also energy efficient, offer good ventilation and are an affordable option. They also come available in a variety of designs so they can work well with a variety of home styles.
Choosing just the right windows doesn't have to be that challenging, you just have to know your options. It is essential to have a team of knowledgeable experts to work with, in order to get the information that you need. This will also help ensure that you get the results that you deserve.
The Source for Quality Casement Windows in Bismarck
If you are ready to find out more about casement windows or your other options for windows in Bismarck, give our pros a call today. Here at Precision Wood Finish, we take great pride in the work that we do and it shows in the results we get. Call our construction and wood staining company now and let's get started with your window project.
Interested in purchasing wood window frames? We've got you covered! Plus, you'll love the fact that we specialize in wood finishing and staining services.
If you would like a free estimate for casement windows in Bismarck or the surrounding areas, please call 701-751-2848 or complete our online request form.
Recent Articles