Finishing Barn Doors in Bismarck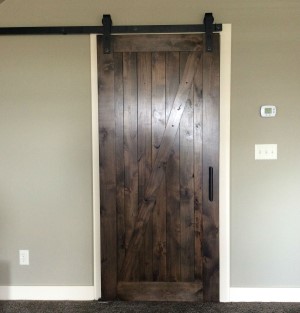 Considering the addition of sliding wood barn doors to your home is a smart choice to make, especially if you follow recent interior design trends. The rustic look of these doors can be functional while also becoming a stunning focal point for any room. While most people do use them as a way to separate rooms, they can also be utilized to simply add to the interior design aesthetics. This is part of the reason why barn doors in Bismarck are one of the hottest home improvement trends right now.
Think of these as the modern alternative to pocket doors as they save space but are easier to use than pocket doors. Not to mention, the look is crisp, clean and modern. Now, the name that you need to know when it comes to getting barn doors stained and finished in your home would be Precision Wood Finish.

Since 1994 we have been providing our customers with the quality service and products needed to make the most of their homes and commercial spaces. Our goal is to help you understand the options that you have for interior doors so you can then make the best choice possible. This starts with also having enough quality selections to choose from.
Providing Modern & Rustic Barn Doors in Bismarck
At Precision Wood Finish, we have over 25 years of industry related expertise in the field including finishing rustic barn doors in addition to our variety of services related to wood finishing in Bismarck. We look forward to having the opportunity to work with you and show you the many exciting options that you have available. You are going to love the final look that we are able to provide for you.

This functional and stunning addition will do wonders for the interior of your residential or commercial space. Just make it a point to work with a reputable and established expert, such as our wood staining company, who understands this service. Otherwise, you could end up with shoddy workmanship and walls that end up buckling under the weight.
If you would like a free estimate for staining and finishing barn doors in Bismarck or the surrounding areas, please call 701-751-2848 or complete our online request form.
Recent Articles