Precision Wood Finish's Delivery Service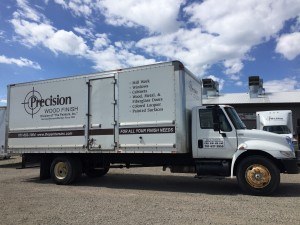 At Precision Wood Finish, we offer a lot of professional grade services and one of those just happens to be our delivery service in Bismarck available for up to 125 miles out from our shop. While it depends on the type of work we are doing, delivery to the home or business can be the best choice. We sometimes work on projects on-site for quicker results.
However, generally we prefer to work in our own shop for a number of reasons. First and foremost since your safety and satisfaction are our priority, we like to do the work away from your home. This means less exposure to dust and fumes, as well as no chance of any incidents.
This also enables us to have better ability to a controlled work environment which means the highest quality of results. Yet some people don't like the idea of this because they think it will mean they get stuck with the pickup. The good news is that we believe in going the extra mile and providing our customers with the delivery service that makes all the difference.
About Our Delivery Services
At Precision Wood Finish we offer delivery services in a generous 125 mile radius from our location in Bismarck, ND. Some limitations and restrictions apply, so please contact us by phone for full details. The point is that we want to be able to make this whole process easier for you.
This also allows our wood staining company to go ahead and put the item in place or install it, when applicable. What is the point of doing our best work and then leaving the installation work to someone who may not have the same high standards for results that we do. If we do the work, we intend to see it through until the end. How can we genuinely claim to stand behind our work if we do not even bring it directly to you, whenever possible.
Since 1994, we have been providing our customers with the finest in workmanship and materials for the services we offer. You can expect the same high standards for the delivery service we offer, as well. We work with both residential and commercial clients because we are focused on helping offer the best of services, all around.
Professional Delivery of Specialty Items & More
To find out more about our delivery options, and the other quality services our Bismarck wood finishing pros offer, give us a call today. You can feel confident knowing you get the same level of excellence for all of the work that we do. Leave it to us to deliver your doors, windows, custom cabinets, and more.
We believe in going above and beyond for everything we do, including our delivery services. Don't ever settle for less than the best when it comes to the work that goes into improving your residential or commercial structure.
If you our interested in our delivery services, please call 701-751-2848 or complete our online request form.
Recent Articles