Water-Based Wood Stains in Bismarck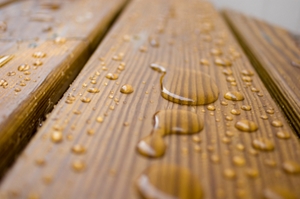 At Precision Wood Finish we make it a point to provide the best quality workmanship and results for each customer that we work with. This means offering a wide variety of services and using the best technique possible for each situation. You may have a request or may just leave it to our expertise to provide you with what will work best. From gel stains to water-based wood stains in Bismarck, when it comes to wood staining and finishing, we're the local experts you can trust for quality results.
We not only offer spray stains, we offer water-based or solvent-based. Water-based spray stains are a popular option for a number of reasons. For one thing, this has become a favored option for anyone looking for a more environmentally responsible alternative.
This method and product is known for low VOCs or Volatile Organic Compounds. Higher VOCs are considered harmful chemicals that can negatively impact the environment as well as the health and well-being of the person applying it. Obviously, that makes paints and stains with lower VOCs a more desirable option to consider.
Water-Based Spray Stain Wood Finishing Services
There are plenty of reasons why you may want to opt for a low-VOC wood stain such as our selection of water-based spray wood stains. Just like there are countless reason you should want to choose to work with the Precision Wood Finish team. Some of this includes:
Whenever possible we opt to take care of staining work inside our shop as opposed to your home simply because we have a better ability to keep it in a controlled environment. This helps ensure the perfect final results you desire and is especially important for water-based finishes.
We take great pride in our stain color matching capabilities spanning a variety of materials. This is because we truly are industry experts.
We stand behind our work and your satisfaction is our number one concern. This includes the safety of our team members so we take extra steps to ensure both!
We are able to deliver to you making the process that less time consuming. We have a distance range in which we deliver, so feel free to ask about our delivery services.
We are local so you really can feel good about supporting local business. We are a family owned and operated company that has been part of the local community here since 1994.
The bottom line is that we want the opportunity to demonstrate to you what makes us the number one wood staining company in the area for wood finishing services utilizing water-based wood stains and more.
The Bismarck Water-Based Wood Stain Application Specialists
If you are ready to find out more about what we can do for you, all you have to do is give us a call. Here at Precision Wood Finish we look forward to having the chance to work with you. We guarantee that you are going to love the final results that we are able to provide for you when it comes to wood staining in Bismarck and the surrounding areas.
If you are interested in water-based wood stains in Bismarck or the surrounding areas, please call 701-751-2848 or complete our online request form.
Recent Articles