Reconditioning Cabinets in Bismarck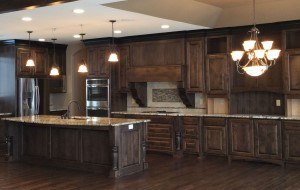 Custom Cabinets for Kitchens, Bathrooms & More
So what makes it such a good idea to opt for custom refinishing as opposed to what you get at a big box store. Some of the advantages are:
Down to the Details – When you buy pre-fab cabinets, you are stuck with what the manufacturer feels you need or don't need. You know your kitchen better, and can accommodate your cabinets to suit your needs. From the perfect height to adding features that would make your kitchen more user-friendly, you can customize each detail.
Ideal Fit – This is important for homes with a non-traditional layout or size challenges. Getting custom cabinets helps eliminate some of the problems that would otherwise arise from this.
Adds Value – The better the quality cabinets you add, the more this will increase the property value of your home. Plus, this can make your home easier to sell faster when you do get ready to put it on the market.
Shop Local – When you buy from big box stores you are not supporting local business. Help keep the local economy going by investing your money into local, family-owned and operated businesses.
Expertly Crafted Cabinetry Refinishing in Bismarck
You also get the best of both worlds because our wood staining company can provide you with exceptional stain work to finish it, as well. From expert level color matching stain to cabinet glazing for an antique look, we have got you covered.
Don't settle for anything less than the best when it comes to your cabinetry. Let the pros here at Precision Wood Finish take care of providing you with superior results for both your kitchen cabinets and wood finishing in Bismarck. You are going to love the new look of your kitchen and greatly appreciate the added value.
---
Latest Projects
---
If you would like a free estimate for cabinetry staining and painting in Bismarck or the surrounding areas, please call 701-751-2848 or complete our online request form.
Recent Articles