Gel Stain in Bismarck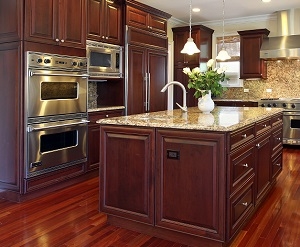 True industry experts know and understand the various options available for staining wood, including gel stains in Bismarck. This is part of why so many residential and commercial clients prefer working with the team here at Precision Wood Finish. We take this line of work seriously and that is evident from the high quality results that we get.
Since 1994, we have been providing locals with the exceptional service required to get the superior results that they want and deserve. As a family owned and operated business, we have the unique ability to make ourselves available to you for an open line of communication. This helps to make your vision of the project a shared vision for our crew.
It all starts simply with our free estimate and ends with 100% customer satisfaction. In fact, we can even deliver the final product within a generous 125 mile radius. Call today for details or to get your free estimate.
All About Gel Wood Stains
With so many various options for wood stains, it can be hard to make sense of it all. That is what we are here for. To be the professionals who can help you comprehend the options and guide you towards making the best decisions. This way, you don't have to worry about whether you chose the right stain for the type of wood you're protecting, or if the stain you picked is right for cabinet staining, etc.
With that in mind, here is some of what you should know about gel wood stains includes:
Gel stain is thicker than liquid stains. That makes this appropriate for certain situations which is why it makes sense to work with experts who know which circumstances these are.
Think of wood like a slice of bread. The gel stain is like peanut butter that adheres to the surface without penetration. Liquid stains would be like melted butter that completely penetrate leaving a hint of surface color.
Attempting to DIY with wood staining gels can be very tricky. If not handled properly, gel stains can collect in corners and other tight spots making these areas noticeably darker.
Gel stains are also not ideal if your goal is to truly highlight the natural wood grain. This thicker wood stain tends to cause some of the depth to be lost.
Again, by working with our team of Bismarck wood staining experts you don't have to worry. We will be able to share all of this with you and offer suggestions for what would work best for your project. Together we can help make your dream a reality.
The Source for Gel Stains in Bismarck
With over two decades of professional expertise in the business, you can count on Precision Wood Finish. We look forward to meeting with you to discuss the options that you have, such as gel stain. Don't delay, call us today and find out more about how our wood staining company can perfect your project. We are the preferred choice for wood staining in Bismarck, ND for a reason. Call today to experience it for yourself!
If you are interested in gel stains in Bismarck or the surrounding areas, please call 701-751-2848 or complete our online request form.
Recent Articles