Staining & Finishing Stair Systems in Bismarck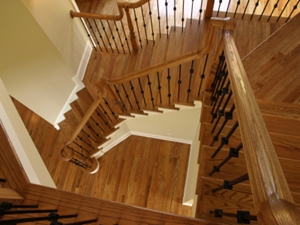 Nothing quite adds that elegance and personal touch quite like custom stair systems in Bismarck. Of course it all comes down to the quality of work that goes into getting the work done. Smart homeowners know the name to rely on for work like this is Precision Wood Finish.
For over two decades now, we have been providing local residential and commercial clients with the finest in finishing work in a variety of facets. Our name has become synonymous with superior quality workmanship and superior final results. We stand behind the work that we do, as well as promise your safety and satisfaction.
This can be completely important when it comes to projects like stairs. You don't just need them to look complimentary, you need to know they will be able to perform as well. We are skilled in the art of mastering visual aesthetics as well as functionality.
Bismarck's Stair Systems Experts
Aside from the fact that you will love the results that we are able to deliver for you, there are other reasons we are the ideal wood staining company to get the job done. Some of these reasons include:
We offer superior wood stain service utilizing 3 sprayed top coats and 2 heavy sprayed paint coats for the best final result.
We stand behind all of the work we do because we have your safety and satisfaction in mind.
We have the best of the best when it comes to stain matching capabilities so you know the look will be astounding.
Find out for yourself how Precision Wood Finish has become the number one choice for custom stair systems and wood finishing in Bismarck and the surrounding areas for residential and commercial structures.
If you would like a free estimate for stair systems in Bismarck or the surrounding areas, please call 701-751-2848 or complete our online request form.
Recent Articles