Wood Finishing with Spray Stains in Bismarck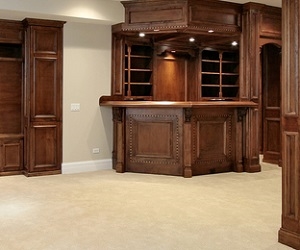 There is nothing that quite completes the look of wood pieces as the stain used to finish them. This offers the final look as well as the protection needed to promote longevity and performance. Here at Precision Wood Finish, this type of work just happens to be our specialty. We are the local experts when it comes to wood staining using spray stains in Bismarck, ND.
Not only is the work we do the most superior work available, it is also about the products we use. Our work is only as good as our products and our final result is only as good as the work we invest into each piece.
We work with both water-based and solvent-based wood stains applied in a spray for even coating and superior protection. It is important for you to know a little bit about the difference and understand why one may be better than the other, depending on the situation. Let us work with you to help make sure that you comprehend the options before we get started on your project for wood staining in Bismarck or the surrounding areas.
Water-Based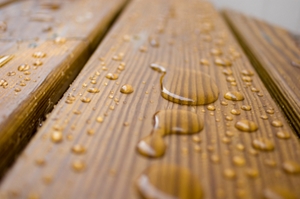 Water-Based finishes are a safe and popular option, for a variety of reasons. For one thing, it is quick drying which means you can have your pieces completed in less time. It also has low VOC's or Low Organic Compounds.
Low VOCs makes it safer for our professionals to use and does not promote the same level of negative impact on the environment that some other types of stains, finishes and paints do. As more companies become more concerned with having eco-friendly products, looking for ways to lower VOCs is always a priority.
This water-based spray stain also has a low odor. This certainly is helpful when applying but also means your piece will not be left with a lingering, chemical odor. Have the stunning look of preserved wood without the offensive stench of harsh chemicals.
Solvent-Based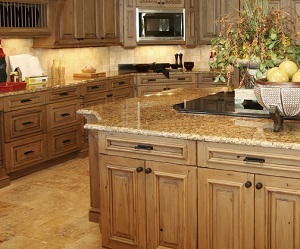 When it comes to getting the standard or traditional finish, this refers to solvent-based spray stains. They tend to be easier to work with and leave a brilliant glossy shine. This finish is also known for having the ability withstand the tests of time, for years to come.
This option is not going to be quite as eco-friendly however our wood staining company makes every adjustment possible to accommodate for this. It is about working to leave a minimal carbon footprint, as well as protect the safety and well-being of our team members.
When we meet with you here at Precision Wood Finish, we will discuss with you the options that you have. This includes weighing the pros and cons of each. This will help us come to an agreement on how to best provide you with the results that you want and deserve.
If you are interested in spray stains in Bismarck or the surrounding areas, please call 701-751-2848 or complete our online request form.
Recent Articles