Polyurethane & Other Protective Chemical Coatings in Bismarck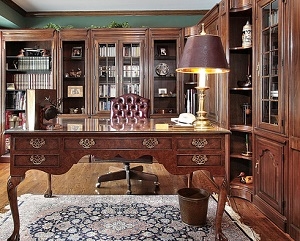 Here at Precision Wood Finish, we are results-driven team focused on customer satisfaction. Part of making this possible is making it a point to offer a variety of wood finishing services. One of these services is to seal wood using protective chemical coatings in Bismarck.
This is a mixture of an assortment of materials combined in order to provide you with a protective coating or stain that also enhances the appearance. This includes components such as solvents, pigments and film-forming materials. This will enhance the aesthetic beauty while also creating a protective seal.
This is so that you can enjoy the beauty now, but also have the ability to preserve your piece – for years to come. In fact, this wood coating can be the reason an item becomes a family heirloom, passed down through the generations. However, without this protective coating, you are putting your wood at risk of damage.
Expert Application of Chemical Coatings like Polyurethane
When we begin working with your, our main objective is to find out more about what you hope to achieve. This is how we can offer suggestions and help you make important decisions about the work you want completed. Some things that you should probably know about this process and the Precision Wood Finish team are:
While the pros use us, you certainly can too! We are available to DIYers out there as well.
We are especially skilled in our ability to color match stains. Too many competitors in this industry are self-proclaimed pros yet they lack essential skills, such as color matching.
Our service is superior because we use 3 sprayed top coats, 2 heavy sprayed paint coats for superior quality finish.
We can come to you but often opt to carry out the work in our own shop. This prevents you from exposure to VOCs and allows us to keep your pieces in a controlled environment, while they dry.
We can however deliver the final products to you making it more convenient. We offer delivery in a 125 mile radius so contact us to find out more about our delivery services.
Our stains and top coats are of the best quality so you get serious value for your investment. We can prolong the lifespan and enhance the beauty and performance with our chemical coatings.
From polyurethane coatings to other protective wood finishes, you can rely on our experts for the best products and application. Give us a call today to learn more about our wood sealing services using chemical coatings, as well as any of our other services related to wood staining in Bismarck and the surrounding areas.
Professional Chemical Coatings in Bismarck
We look forward to meeting with you and answering any questions that you may have about our chemical coatings in Bismarck. This should help you decide if protective wood coatings such as polyurethane are right for you. Not to mention, this will help demonstrate to you that Precision Wood Finish is the right wood staining company for the job.
If you are interested in an estimate for chemical coatings in Bismarck or the surrounding areas, please call 701-751-2848 or complete our online request form.
Recent Articles