The Finest Quality Solvent-Based Wood Stains in Bismarck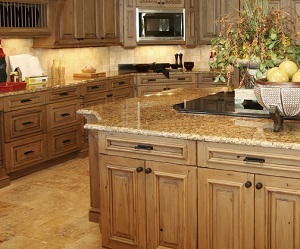 At Precision Wood Finish, we are known for our quality workmanship and results. In fact, our name is synonymous with excellence. We want to go above and beyond when it comes to making the customer happy, which means ensuring the best final product. Sometimes this means reviewing with you the options that you have for your stain or finish, such as penetrating, gel, water-based and solvent-based wood stains in Bismarck.
As far as spray stains go, we offer two varieties: solvent-based and water-based. If you are not already familiar with solvent-based spray stain, there are some things that you should know. While not as eco-friendly as the alternative, solvent-based wood stains are considered the traditional approach for a spray stain finish.
It is easy to work with and has the fastest working times. The end result is a piece that is ready for wear and tear all while maintaining a brilliant shine. Let us show you work we have done previously, using this finish, so you can see for yourself.
Spray Staining with Solvent-Based Wood Stains in Bismarck
We are dedicated to turning out the best final product which means using the best materials to achieve this. You may already know why solvent-based spray stain would be best for your project. You probably also already know what makes us the most qualified crew to get the job done for you.
However, if not, here is some of what you should know:
We are able to deliver to you which is something most of the competition cannot offer. We have a 125 mile delivery radius so call us for details.
One of the details that we are the most proud of is our ability to color match stain including many different materials. This is how we are able to stand behind our claims of being experts in this field.
Speaking of standing behind something, we also stand behind the work we do. We are not satisfied with the completed job until you are.
We can come to you or work on your piece in the safety of our controlled environment here. This reduces the chances of exposure to harsh chemicals because we are concerned about your safety and well-being, first and foremost.
Of course, there is always the benefit of supporting local business. This means that your dollars directly support the local economy.
The Bismarck Solvent-Based Spray Stain Experts
Another great reason for working with our local, family owned and operated wood staining company is that this enhances the ability to communicate better and quickly resolve any issues that may arise. We are committed to the satisfaction of each client. This is why we make it a point to educate you about the products we use and the options that you have for wood staining in Bismarck and the surrounding areas.
If you are interested in an estimate for solvent-based wood stains in Bismarck or the surrounding areas, please call 701-751-2848 or complete our online request form.
Recent Articles