Cabinet Glazing in Bismarck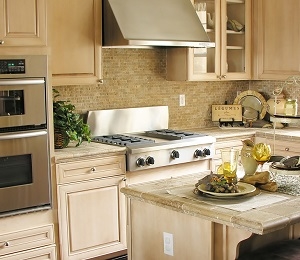 Glazing is a popular option for wood staining, especially when it comes to kitchen cabinets. You can finish the wood or give your cabinetry a whole new look with this process. The important thing is to make sure that you work with a true industry expert to tackle this job for you. Here at Precision Wood Finish, we are known for being the experts in the field of cabinet glazing in Bismarck, ND and the surrounding areas.
Glazing is one of our specialty wood staining services available for all types of projects, not just cabinetry. Since 1994 we have been providing residential and commercial clients with the wood finishing services they need for the results that they want.
Our goal is to work with each client and find out what exactly it is that they hope to achieve. Then our job is to do whatever it takes to make this possible. We look forward to working with you and finding out more about your wood staining project so call us today for your free estimate.
Expert Cabinet Glazing Services & More
So why exactly would you want to utilize the glazing wood staining process as opposed to other methods? This is the ideal way to achieve an antiqued look and feel. The process results in an almost translucent layer that can be directly applied over the existing stain or paint. The result is that some areas are darker than others, giving the appearance of being worn and aged.
By working with our team of experts you can be assured that you will achieve the exact desired look. This finished look helps add depth and to make your cabinets one of a kind. Depending on the colors used, this can also result in creating a textured look as opposed to antiqued.
When we meet with you we will find out more about the overall look that you wish to achieve. From there we can review with you the choices that you have. Ultimately we can then finalize the project by delivering your glazed cabinets to you (*within 125 mile radius, please call for details.)
Bismarck Glazing Stain Application Pros
We are the preferred local leading experts for cabinet staining and glazing in the Bismarck area, and once you work with us you will quickly see why. The good news is that by working with the team here at Precision Wood Finish you can also feel good about supporting local business. Your dollars can directly impact the local economy.
Not to mention, this is the best way to get the final look for you project that you had hoped for. We are in the business of bringing visions to life and helping you put the finishing touches on your dream home. From glazing kitchen cabinets to any other type of project related to wood staining in Bismarck, our experts can help you get the results you want. Quality always matters when it comes to your home or business so call our wood staining company today to get that quality for your glazing project.
If you are interested in an estimate for cabinet glazing in Bismarck or the surrounding areas, please call 701-751-2848 or complete our online request form.
Recent Articles