The Local Bismarck Wood Staining You Can Count On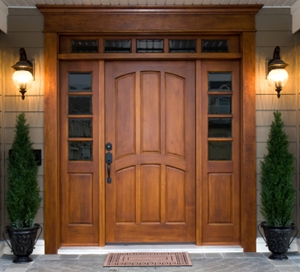 When you find yourself in need of a professional Bismarck wood staining company, you want to feel confident that you are getting the best possible workmanship. This is why so many residential and commercial customers call on our experts here at Precision Wood Finish to take care of the work for them. We are known for our dedication to quality work for all of the services that we provide, including a variety of wood staining services.
Since 1994, we have been the local leading service provider for this type of work. We are a family-owned and operated company and we take great pride in the work we do. The bottom line is that we treat you the way that we would want to be treated, with courtesy and respect.
Our goal is to go above and beyond when it comes to the work we do and the services that we provide. We can ensure that the work we do will provide you with superior performance, longevity and beauty. So don't take chances when it comes to the quality of work you get for your home or business. Call our professionals today for everything from decking, millwork, windows, and doors to top quality cabinet staining in Bismarck. You'll also find the best selection of gel stains, water-based and solvent-based wood stains, and more. Call and get your free estimate today.
Wood Staining Experts in Bismarck
Obviously we have the training, skills and expertise needed to provide you with the finest in wood staining services. Yet, you may be wondering, what else makes us the best of the best in the area? Some of what has helped us establish ourselves as the premier choice include:
We stand behind the work we do, as all companies should but few still do. This means that your safety and satisfaction are our top priorities.
We offer delivery service in a 125 mile radius, so call to find out more details about this. Unless we are doing the work on site, you want to be able to know you will get the work delivered once it is completed.
You can feel good about directly supporting local business and helping put your dollars into the local economy. Of course, by being local, it means you also get the direct communication and conflict resolution that you should be able to.
From deck staining to glazing cabinetry or other specialty items such as barn doors and casement windows, our wood staining professionals are the ones you can trust for the quality you expect.
Stain Color Matching Services in Bismarck
We are also the preferred company because of our stain color matching capabilities across many different materials. This is an art form that takes sill and experience and is handled by industry experts.
It is about truly understanding the different types of woods and how different stains will react – it can't be a guessing game. At our wood staining company, we take this line of work seriously and it shows. Give the pros here at Precision Wood Finish a call today and let's get started working on your project for wood staining in Bismarck, ND.
---
Latest Projects
---
See What Customers in Bismarck, ND are Saying About Us
"First, the finished product (my stained stools) looks excellent. In addition, the price was fair, and they finished this job on schedule. All in all, I am very pleased because I just finished a remodel, and I could not give these high scores to the majority of our hires."

-Benita S. Bismarck, ND | Rated: 5/5
---
"We are always so happy with products and services from Precision Wood Finish. It is great working their team!"

-Deb L., Redford Signature Homes. Bismarck, ND | Rated: 5/5
---
"Very professional company to work with. Employees are very courteous. Sherri is very good to work with as is her staff."

-Laurel L. Bismarck, ND | Rated: 5/5
---
"Well done! The project was done better than I expected."

-Chris S. Bismarck, ND | Rated: 5/5
---
"We appreciate the friendly and professional service we received. Our "new" old door looks great!"

-Sue G. Bismarck, ND | Rated: 5/5
---
"I was very happy with the job and the look of my cabinets. Thank you!"

-Lois H. Bismarck, ND | Rated: 5/5
---
"Everyone was very nice and courteous. I am very impressed with the quality of the staining, especially the six panel oak doors. They look nicer than the doors we have upstairs that were done by the builder's sub-contractor. Thanks again for the fabulous job."

-Stephanie S. Bismarck, ND | Rated: 5/5
---
If you are looking for a professional Bismarck wood staining company then please call 701-751-2848 or complete our online request form.