Interior Wood Doors in Bismarck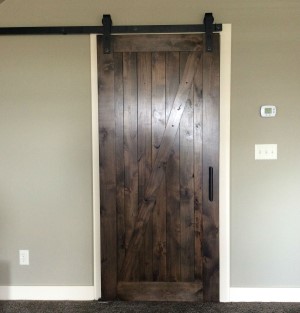 Truly making your house a home comes down to the little details, such as custom Stained interior wood doors in Bismarck. Also referred to as passage doors, these doors add beauty and sophistication to the interior of your residential or commercial building.
There is no reason to settle for standard, boring doors. Dress up the look of your interior space with our custom finishes applied to doors. You can feel good about our exceptional service because we use 3 sprayed top coats and 2 heavy sprayed paint coats with the doors horizontal as opposed to vertical spraying, which makes a big difference on the final results.
For fiberglass doors, sun can break down the top coat over time for interior and exterior doors. This can eventually lead to breaking down the door itself. Prevent this from happening by getting the quality work you need from our pros with quality wood doors.
Since 1994, we have been the premier provider of interior wood door finishing in Bismark. We are a local, family-owned and operated company so you can feel good about supporting local businesses and the local economy. We are well known and widely respected for our high quality of craftsmanship and results.
This includes even being able to offer stain matching capabilities that are unsurpassed - regardless of the material. The work we do will not only bring personal enjoyment, it will increase the property value of your residential or commercial structure. That makes the work we do a wise investment.
If you would like a free estimate for interior wood door finishing in Bismarck or the surrounding areas, please call 701-751-2848 or complete our online request form.
Recent Articles