Painting, Staining & Finishing Fiberglass Entry Doors in Bismarck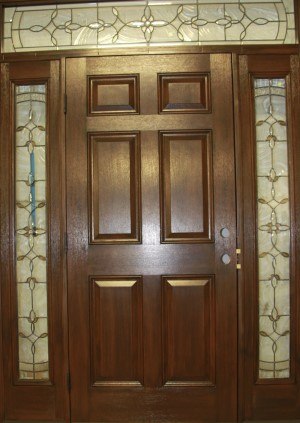 You never give much thought about your entry doors until you have to choose one. Suddenly then you realize that this can be a bit of a tricky task. Fiberglass entry doors in Bismarck have become a popular choice because they are usually well-designed and sturdy.
What is just as important is knowing who to call on in order to get the best results possible, whether you choose fiberglass doors or some other available product. This is why so many residential and commercial clients call on our team here at Precision Wood Finish to stain and finish their doors. With over 25 years of expertise in wood staining and related tasks, we know all about quality workmanship.
We also know all about superior customer care which is what drives and motivates us to be better each day than the day before. As a family owned and operated business, we are that much more driven to provide our clients with exceptional service and results.
Fiberglass Entry System Services
One of the first questions people ask about these types of doors is what are some of the benefits. Here are some things that you should know:
Fiberglass entry systems are also a good choice because they tend not to allow in moisture.
You can get the look of natural wood, right down to the grain, without the maintenance of wood. You may even opt for leaving this door untreated or unpainted to blend cohesively with the look of your home or business.
This is also an ideal choice for energy efficiency. This can help reduce monthly utility costs and also makes your home more eco-friendly.
If you are looking for something that is low maintenance, then fiberglass is it. They are also resistant to dents and scratches and need only occasional cleaning.
The sun can break down the top coat over time and, eventually, the door itself. We provide the best in quality products and materials so you can feel confident about the results that we provide for you. The other thing to keep in mind is that these types of doors are difficult to resize so they must be measured carefully – leave this to a pro and not a DIY project.
Your Local Source for Fiberglass Entry Doors in Bismarck
Our number one concern is your safety and satisfaction so we stand behind all the work that we do. As a locally owned wood staining company, we want to ensure you that you will get the best quality possible.
You don't have to feel like you are taking a gamble by working with us for your service needs. When it comes to your fiberglass entry system, call on Precision Wood Finish to get the job done for you.
If you would like a free estimate for fiberglass entry doors in Bismarck or the surrounding areas, please call 701-751-2848 or complete our online request form.
Recent Articles