The Beulah Wood Staining Company Locals Call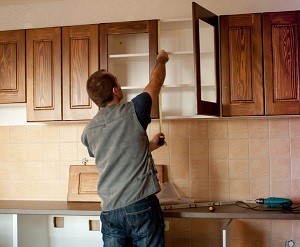 Wood is a great way to increase your property value but it also means having a quality Beulah wood staining company to work with. Otherwise, your wood floors, decks, cabinets and more will not withstand the tests of time. Not to mention, they simply will not look as good as they should.
Since 1994, Precision Wood Finish has been the name to call on to get the job done. We take great pride in the work that we do and that is evident in the results that we are able to get for every job we take on. We care as much about your projects and quality results for them as you do – if not more!
As a family-owned and operated business, we believe that going above and beyond should be the industry standard not the exception. It begins with us providing you with a free estimate and concludes with you having the finest quality work you could have hoped for. Don't compromise quality when it comes to preserving the look, longevity and performance of your wood.
Wood Staining Experts in Beulah
Be it for your home or your business, wood is a wonderful addition. It not only looks stunning, it adds to the value of your property making it a wise investment. Some reasons you need to stain wood and protect that investment are:
One of the most important things you need to be able to protect wood from is water or even moisture. Letting moisture get into the wood can cause a variety of problems from splitting to rotting. Either way, you do not want to compromise the structural integrity of your wood because the only way to rectify the situation is to replace it.
Sunlight and UV rays are another element that can end up damaging your wood surfaces. Protection from stain for wood is similar to protection from sunblock for your skin. By adding this barrier you reduce the likelihood of discoloration and damage from the sun.
Overall, professional wood staining in Beulah, ND is the best way to enhance the beauty and maximize the lifespan of your wood. This seal and barrier brings out the rich beauty of your wood while helping to safeguard it from a variety of threats.
There's so much that goes into a proper wood staining project, and our team of professionals is happy to answer any questions you may have, such as what the best products to use are, etc. From gel stains, water-based and solvent-based wood stains to millwork, deck staining, and cabinet staining in Beulah, ND, Precision Wood Finish is the company you can trust for the quality you expect.
Stain Color Matching Services in Beulah
It should come as no surprise that we are also the premier choice for stain color matching services in Beulah, ND as well. This is essential for helping to promote the natural beauty without altering the color. For this and all of our superior quality wood staining services, all you have to do is reach out to our experts here at Precision Wood Finish. We're the wood staining company you can trust for quality results, every time, with any wood staining project in Beulah, ND.
If you are looking for a professional Beulah wood staining company then please call 701-751-2848 or complete our online request form.