Picking the Right Cabinets for Your Bismarck Home – It's About More Than Storage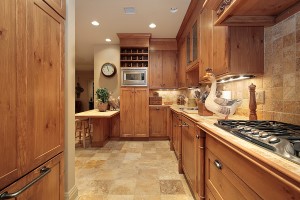 Your cabinets are kind of a big deal, whether you realize it or not. For instance, did you know that new cabinets can account for up to 40% of the budget when it comes to remodeling? That means you had better like what you choose because there are certainly plenty of options to select from. This also means there is no reason to settle for plain cookie-cutter cabinets or inferior quality. Your cabinets provide the storage that you need, but also end up becoming the focal point of the room. So if you are a homeowner who is looking for advice when it comes to picking out the right cabinets, there are some things that you should know that will help you make the best possible choice.
What You Should Know About Choosing Cabinets
In order to figure out which cabinets would work best for you, here are some pointers to take into consideration:
First and foremost, determine what the needs of your kitchen are. For most homeowners, it is all about getting as much storage space as possible. Opt for cabinets that provide this and that can be set up in a manner that makes your kitchen more functional.
Find out more about the details that make cabinets better quality, and what particulars can work with your budget. Some examples of quality details include dove-tailed drawers, soft close for both drawers and doors and full extension when opening drawers. This also includes a vast array of options for finishes, which will ultimately determine the final look. These technicalities are also part of what make your cabinets more unique and customized to your specifications.
Selecting the type of wood that you want to work with is another detail to consider. Aside from quality and appearance, you should think about level of darkness. For instance, the amount of space and type of lighting that you have will determine how dark you should go with the color of the wood. Darker woods, like cherry, are beautiful. However, they are also best suited for kitchen spaces that are more open, have plenty of lighting, or both.
Stay aware of current kitchen cabinet trends. While you do not want to pick anything so trendy that it could end up being outdated within six months, it makes sense to want to choose cabinets that are currently in fashion. Examples of this include using grey stains, using gold tone hardware and using cabinets to conceal appliances. By working with a true industry expert, they should be aware of these trends and able to help you better understand them.
The bottom line is that investing in quality cabinets provides you with beautiful, functional cabinetry that will also help to increase the property value of your home. For some homeowners, cabinets are something that are a top priority; others are less enthusiastic. However, it is still essential that you get cabinets that you like and that will last, for years to come.
Finding the Right Team of Experts
If you are a homeowner in the Bismarck area looking for custom cabinetry, the name to trust in is Precision Wood Finish. The customer satisfaction rating we have earned for our cabinet work is due to the quality of work we provide. Quality custom cabinetry provides you with the ideal fit, adds value to your home and enables you to shop local which stimulates your own local economy. Not to mention, working with us means you get to make customized selections based on your personal preferences. In other words, you get attention to details, unlike buying pre-fab cabinets from a big box store. And it all starts by you contacting us in order to get your free estimate. Since 1994, we have been the local leading service provider for wood working, for both residential and commercial clients. Over the decades we have grown from a 2,700 square foot shop to a 7,600 square foot facility. Yet even as we continue to grow, we never lose sight of the importance of providing individual personal care to each of our customers.
If you are looking for an expert for wood staining in Bismarck, ND, then please call 701-751-2848 or complete our online request form.