Fiberglass vs. Metal Doors in Bismarck - Which Entry System is Right For You?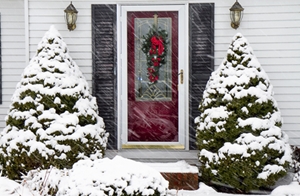 You are prepared to pick out the perfect entry doors for your Bismarck home when suddenly you realize you are faced with a choice. It's not just about picking which one looks the best, it is about deciding between fiberglass and metal doors in Bismarck for your entry system. While it may be great to have choices, sometimes trying to make a decision can be a challenge.
The easiest way to make the right choice, for your individual situation, is to understand each option. This will help you decide on a door based on more than just which one looks the best.
The Pros and Cons of Metal and Fiberglass Doors
Although this is only a brief summary of the pros and cons of each type of entry door, it is meant to give you a general idea. Working with an industry professional will help ensure that you get the best information possible.
Fiberglass Entry System – Fiberglass tends to have the most curb appeal because they most closely mimic the look of real wood. The best part is that they do not have the same issues real wood does, such as shrinkage, splitting or warping. However, it is important to keep up with maintenance for this type of door because the sun can break down the topcoat, and door itself, over time. These doors are also ideal for energy efficiency. This is perfect for keeping your energy bills lower each month and making your home more eco-friendly. Plus, fiberglass is better when it comes to security, when compared to wood doors. Although the cost may be slightly more, you get what you pay for.
Metal Entry System – For starters, steel doors are the most durable available on the market. You won't have to worry about some of the issues that can come up with real wood doors, like warping or cracking. They also can become susceptible to rust, if not maintained properly. You can feel good knowing that metal doors in Bismarck are a good choice for energy efficiency, certainly more so than standard wood doors. They are also ideal for security purposes and cost less than most wood door options.
Let Precision Help
At Precision Wood Finish we can provide you with the data that you need to comprehend your choices. This will enable you to make a wise choice as a homeowner and a consumer.
Your entry doors not only have to look good, they have to perform well. Don't settle for less than the best when it comes to what you truly want for your entry system. Contact our wood staining company today to learn about our specialty items such as fiberglass doors and metal entry systems, as well as the staining services we provide for each.
If you are looking for fiberglass or metal doors in Bismarck, ND, then please call 701-751-2848 or complete our online request form.