Expert Wood Staining & Finishing In Steele, ND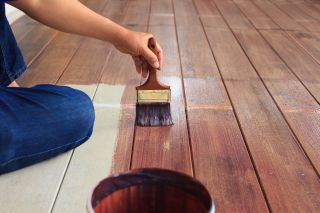 Wood can be absolutely gorgeous for decades if it's taken care of well. To start, it needs a good quality Steele wood finish to help it weather well. Otherwise, the wood is exposed to the elements that work to break down the structure. From time to time, woodwork needs to be refinished again to ensure it stays protected.
If you have new millwork, doors, windows, or existing wood that needs to be stained or finished, Precision Wood Finish is your local expert. Our professional wood staining company is all about quality service to restore or finish the beautiful woodwork in homes and businesses in Steele and across many areas of North Dakota.
We also offer products for the do-it-yourselfer and offer specialty items such as barn doors, bar tops, siding, decking, flooring, and paneling. We have a great workshop and do on-site work as well. Give us a call if you have questions or want to discuss a special project.
Millwork
Stair Systems
Interior Wood Doors
Cabinetry
Fiberglass Entry Doors
Metal Entry Doors
Patio Doors
Windows
Specialty Items
Delivery
Quality Siding Options For Steele
Precision Wood Finish offers quality siding products and installation to Steele home and business owners. Durable siding is a must here in North Dakota due to the climate.
One favorite of homeowners in our area is cedar siding. It is not only really appealing, it holds up well when properly finished. HardiPlank siding is another favorite due to its long-term durability. LP SmartSide siding and Versatex also make the top of the quality siding list.
Don't settle for less, call us today for a siding estimate.
Tongue & Groove Wood Flooring & Paneling In Steele
Whether you are into wood flooring or wood paneling, we have what you need at Precision Wood Finish. Our professionals offer quality products that last.
Wood paneling and flooring must be protected by a quality finish in order to last for the decades it should. Some wood floors have been known to last up to a 100 years because they were properly maintained.
Steele, ND
If you are looking for professional Steele Wood Staining Service or Products, please call 701-751-2848 or complete our online request form.